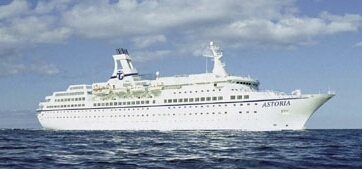 "MS Saga Pearl II" bekrefter sin ankomst!
Vintercruise 2010
I dag er det endelig bekreftet! 21. mars 2010 kommer Saga igjen til Alta på et nytt 2-dagers vintercruise! Selskapet har kjøpt MS Astoria og denne skifter nå navn og settes i cruisefart bl.a hit!
Andrew Goodsell, executive chairman, Saga Group, commented: 'I am very excited that we at long last have Saga Pearl II. She is a lovely mid-sized ship true to the Saga tradition and a perfect addition to our fleet. In her traditional Saga livery she will carry no more than 446 passengers. Regular Saga cruise passengers will find many familiar faces on board, as the officers and crew of Saga Rose will transfer to the new ship.' The ship will undergo a comprehensive £14m refit in Europe over the winter including the creation of balcony cabins, upgrading the show lounge, spa and two swimming pools, the addition of a library and new kitchens and a new Veranda Restaurant. The 18,591gt ship was built in Germany in 1981 and originally launched as Arkona then later named Astoria. Her acquisition will restore Saga's fleet back to two in 2010 as Saga Rose will leave this November.